Residential Gutter Cleaning Services
If your idea of a fun day doesn't involve spending all afternoon hanging precariously from a ladder scraping muddy leaves and twigs out of your gutter, then let us do that dirty work for you!  Our Gutter Cleaning Service includes removing leaves, debris and/or dirt from gutters as well as checking and clearing all roof level downspouts.

We use leaf blowers, when able, which gets gutters cleaner than doing them by hand, and they are great for blasting out the downspouts.  All debris is corralled onto grassy areas,  as best we can, to get cleaned up with your fall or spring cleaning, or mulched the next time the lawn is mowed.  Keep in mind, if you need a cleaning when close to rain or otherwise wet weather, the cleanings can get messy.  We do our best, and blow areas below, but we can clean gutters by hand, upon request, which would minimize this impact.  Ask for details.

Scheduling – Whether you purchase your cleaning through our website, or call/email us with your info, we are out ASAP, typically within a week,  weather and time permitting.  So when we are in the area, have extra time, usually towards the end of the day, and weather permits**, we stop on out.  If no one is home at the time of the cleaning we will leave a card, or a bill, in the front door to let you know we were there.  If time/weather do not allow, we are still out for the cleaning ASAP!  We do keep an eye on the weather, and certainly try to get your cleaning completed before the next rain.
Emergency Service – Same day service can be had by calling or emailing us.  We will even come out while it is raining if needed.  Pricing for this service starts at $330.
Bagging –  It is both recommended and a great idea to get the gutters cleaned before your spring or fall cleanup.  If not, we can bag up leaves upon request at a rate of $95 per bag 1 bag min.  We may not have the ability to haul it away in our normal work vehicles, but can make a return trip if needed to haul away for an additional charge.

Gutter guards –  If you have gutter guards installed, we can help with that too.  Also known as screens, filters, covers or mesh, we will refer to all as a guard.  Included in our normal gutter cleaning prices is to clear off the tops of the guards, and check around the downspouts.  Starting at $95, we can remove the guards permanently or remove the guards, clean the guards, clean underneath, then replace.  Final quote, can be completed once we arrive for the gutter cleaning. The gutter cleaning base price will be charged for our visit, and will be applied towards the final total, if the extra charges are approved.  If additional charges are not approved the base charge in non refundable. 
"Caps" or "Helmets" generally cannot be cleaned, and/or typically come with a lifetime clog guarantee, from their manufacturer.  Since these are mostly permanently attached, we can do little to nothing with these, but can certainly try to help.

**Weather/Conditions – As stated under scheduling, we are out weather permitting.  That means average or calm conditions should exist for a normal gutter cleaning, such as: the property/home should be dry, free of snow/ice, temperatures in the 50's or above and light winds.  Cold weather cleanings are possible, and are the go to when temperatures fall below 32 degrees.  Late fall, you can expect us out when temperatures are steadily at 40 degrees and warmer, 24 hours a day, for at least a few days.  Emergency cleanings are available during periods of rain or high winds.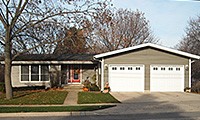 1 Story Home
Example of an average 1 Story Home, $125.00
Prices listed above are for maintenance cleanings,  based on average sized homes, average tree coverage and that are cleaned at regular cleaning intervals.  Base price or minimum of $85 applies to all service visits, and would apply for on site cancellations.   Additional charges may apply if your home is larger and/or for heavy tree coverage or is outside of a normal cleaning period (See Gutter Rescue!).  Final pricing is only confirmed upon arrival for the cleaning.  If the price for your project exceeds our advertised pricing, we will get approval before starting.  Please mention if you have gutter guards or want debris bagged. See service description above for more details.
Gutter Washing
In addition to our cleaning services, we also offer gutter washing. We will remove the dirt and stains caused by weathering and gutter overflow by washing all of the exterior gutter surfaces by hand! When power washed, gutters and fascia might come out good, but hand washing has them looking like new!  Pricing starts at $295.
**NEW** Gutter Rescue!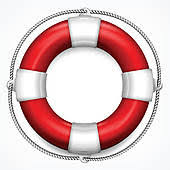 Gutter Rescue! should be considered if your gutters are overflowing, have trees and weeds growing in them or if normal gutter cleaning has not solved your overflow issues. To be considered "healthy" most gutters should be cleaned 3-6 times a year. These cleanings would be considered normal "maintenance" cleanings. When leaves, debris and/or water are left to sit in the gutters and downspouts, that is when real clogging starts, and Gutter Rescue! begins.
Gutter Rescue! is in addition to our gutter cleaning service, and is priced by the number of downspouts: $65 for a home with up to 4 downspouts, $95 for up to 8 and $125 for up to 12 etc. Mention this service when ordering.
Use your credit card or Paypal account to prepay for your gutter cleaning service below.