Gutter Guards
Gutter guards are a great way to prevent gutter and downspout clogs between cleanings. Through all of the years, I have seen some that work and others that do not. Most times, I see gutter guards that are neglected.  Screens or guards get installed, then they are forgotten about.  I have also seen enough of the "gutter filter" style products that are made from a sponge-like or other fabric.   Stay away from these types of products if at a ll possible.   When trying to figure out if gutter guards are best for you, make sure they meet these three criteria:
Are they cost effective – you should not have to take out a second mortgage!

Do they restrict water flow – the last thing you want, is take away from what your gutters are designed to do!

Are they easily removable – you want to easily remove for maintenance
I believe these are some great examples, and meet all of my criteria for a great gutter guard. We offer the full line of aluminum engineered Diamond Back products, and my favorite there is the "Holey Moley" (pictured above)
Raindrop Gutter Guards
Raindrop is a rigid plastic product, that is great for keeping out larger leaves and debris.  The design promotes debris shedability and installs in a way that prevents animals or insects from taking residence.  Comes with a 20 year warranty, guaranteed to last longer than traditional plastic products.  $12 per foot installed.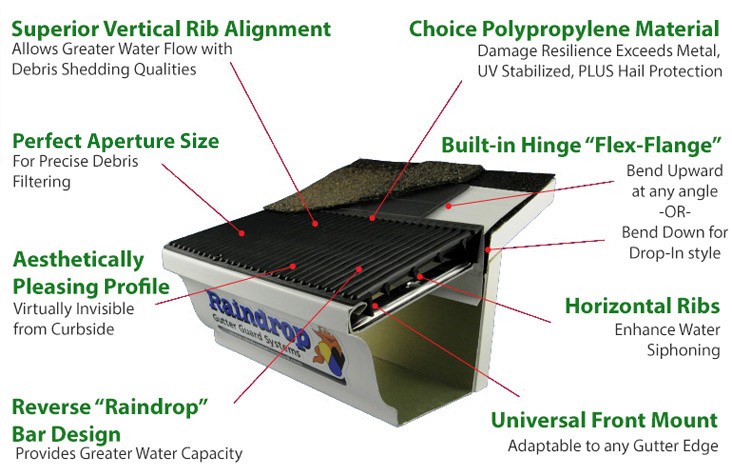 Aluminum Gutter Guards
Diamond back has 4 different types of guards to meet individual needs. There are dual mesh/screens that keep out pine needles, or t

he ridged holey moley (pictured at top of page) which is a rigid, ridged guard. Both promote excellent water flow, and excellent leaf and debris shedding abilities. They install flat across the top of the gutter, so they are not noticeable from the ground.
Available in Black and silver. Starting at $10.00 per foot installed.
Keep leaves and debris from clogging your gutters and downspouts between cleanings with plastic gutter screens!  2 stage screens are made with 1/2″ holes for the water to flow through. They also have a second layer of screening, with holes about the size of a pin head, so even the smallest of debris will be kept out of your gutters! They install flat across the top of the gutter, so they are not noticeable from the ground.
*Not for use with cedar roof systems. Cleaning or inspecting every year or two is always recommended.  Available in both brown and white. $4.00 per foot installed.